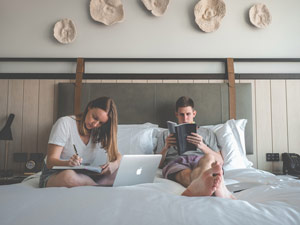 The Line We Live On Blogging Planner is your daily friend to help you simplify, organise and structure your blogging business. A lot of our work happens online, so The Blogging Planner is your relief, a beautiful planner you can hold in your hands and make your own. It is undated so you can start simplifying your blogging business at any time.
GET YOURS HERE – Grey | Peach
Join Our Journey | What's Inside? | The Blogging Planner Story | Who Is It For? | FAQ
Join Our Journey
This is the blogging planner that we use every day. We love how much it has helped us with our blogging business. But we will admit there are a couple of tiny things we wish it had. Mainly, ribbons to use as placeholders (we currently use Post-It coloured sticky flags), and we would love to be able to add a few other small design and functional details to make the product of the highest quality we can.
We plan to launch a Kickstarter campaign in the future to be able to fulfil this vision so we can provide you with the best blogging planner. We would love you to be a part of this journey.
If you purchase our current Blogging Planner, we would love your feedback at planner@thelineweliveon.com. And if you want to be notified when we launch our Kickstarter campaign, you can subscribe to our email list here, and you will be the first to know.
What's Inside?
For a preview of the Blogging Planner click here.
288 Pages | Matte Laminated Hard Cover | 5 x 8 Inches
My Blog Philosophy – Space to outline the aim of your blog, your blog
values, how and why you want to help your readers, your ideal reader etc.
One Year – A yearly calendar overview + yearly goals, traffic and income goals and statistics.
Four Quarters – Space for quarterly goals and quarterly review.
Twelve Months – Twelve monthly spreads including a monthly calendar, focus of the month, monthly goals, traffic and monetization plan, monthly statistics and a monthly editorial calendar.
Fifty-Two Weeks – Fifty-two weekly pages including weekly calendars, weekly tasks and a habit tracker, each followed by seven days including task lists (top 3 priorities, secondary tasks, daily tasks and due today) and space for notes.
Planner
Every Post Checklist – A checklist of things to do for every post, during the post, immediately after posting and later after posting.
Content Ideas – Four pages for content ideas, from blog post ideas to video ideas and any other content you produce.
Traffic Plan – A place to plan how to increase your traffic to your blog
Monetization Plan – A place to plan how to monetize your blog.
Promotion Plan – A place to plan how to promote your blog.
Social Media Plan – A place to plan and create your social media strategy.
Pinterest Group Boards –  A place to record Pinterest group boards to join.
Affiliate Programs – Your affiliate programs, usernames and password hints.
Passwords – A place to record your usernames and password hints.
Projects – Plan any projects you may have from creating a product to brand collaborations.
Ideas – Ten blank pages to fill as you wish.
Income – Record your monthly income details.
Expenses – Record your monthly expenses.
Profit – Record your monthly income, expenses and profit.
Yearly Finance Review – Review your income, expenses and profit for the year and create a plan for the following year.
Blogging Statistics – Record your monthly blogging statistics and see progress from month to month.
Social Statistics – Record your monthly social statistics and see progress from month to month.
Contacts – Record your business contacts.
GET YOURS HERE – $24.99 AUD  Grey | Peach
The Line We Live On Blogging Planner Story
We created this planner from our own personal struggles with our own blogging business.  Blogging is this entire world of possibilities. Although there are foundational tasks that need to be done, the possibilities of how you choose to produce content, promote your content, and monetise your business are almost endless. It's probably true that if you have a blogging business or any type of online business, it's easy to feel overwhelmed, or at the very least, unorganised without a system to make the most of your time.
After trying online tools, printable planners and normal diaries, nothing seemed to be exactly what we needed. Nothing seemed to understand us. We wanted to organise our very online work life in a planner we could hold in our hands. But normal planners just weren't specific enough to blogging to be truly helpful. Printable planners that may have been specific to blogging were sometimes too specific to make our own, and at the end of the day we had sheets of paper that were more like a template than something we wanted to use every day. And online tools were, well, online, and again, not really blogging specific.
So we ended up using blank books, creating our own format, and filled it out every day for over a year. We adapted it as we went, making changes to make it simple to stay organised. Until we were obsessed with using it. Obsessed with the feeling it gave us. Organised. Structured. Feeling ahead rather than behind. Creating goals and meeting them. Being able to measure what worked and what didn't.
But it still had one problem. If only this was a printed book that we could just fill out. So we made it. Used it for another year. Made more changes. And we are even more obsessed with it. We are even more in love with the business of blogging because The Blogging Planner takes the overwhelm out of each day. The Blogging Planner is with us every day. It's the small things that create the big picture.
Who Is It For?
The Line We Live On Blogging Planner is for bloggers and online creators of all stages. If you want somewhere to plan your days, weeks, months and years, achieve and measure goals, and focus on what's important then the Blogging Planner is for you. If you ever feel overwhelmed with all the things you need to get done and just want a way to tame the wild world of blogging and online creating, then The Line We Live On Blogging Planner will become your new best friend.
It is not, however, a 'teach you how to blog or make money' book. It is a planner to help you make sense of your blogging business, a place to guide your daily, weekly, monthly, quarterly and yearly tasks and goals. We have other resources and upcoming products to help you with how to blog.
GET YOURS HERE – $24.99 AUD  Grey | Peach
FAQ
How Do I Purchase The Line We Live On Blogging Planner?
We are currently selling The Line We Live On Blogging Planner through Blurb. If you click on our links above to get your Blogging Planner, it will take you to Blurb's site where you can purchase it.
What Are The Payment Methods Accepted?
As our Blogging Planner is sold through Blurb, you can click here to see the payment methods they accept.
Where Do You Ship?
As our Blogging Planner is sold through Blurb, you can see where Blurb ships here. They ship to over 70 countries.
How Long Does Shipping Take?
As our Blogging Planner is sold through Blurb, you can calculate your shipping times here.
What Is Your Returns Policy?
As our Blogging Planner is sold through Blurb, our return policy is the same as Blurbs. You can see Blurbs Return Policy here. It states "if your book arrives damaged or with a manufacturing defect, we will replace it free of charge. Please let us know within 14 days of receipt of your book." So choose your planner carefully, as returns will only be accepted for damaged or defected books.
I Have Another Question
Send your question to planner@thelineweliveon.com and we will get back to you as soon as possible.